Royal Tour Trollstigen Round Trip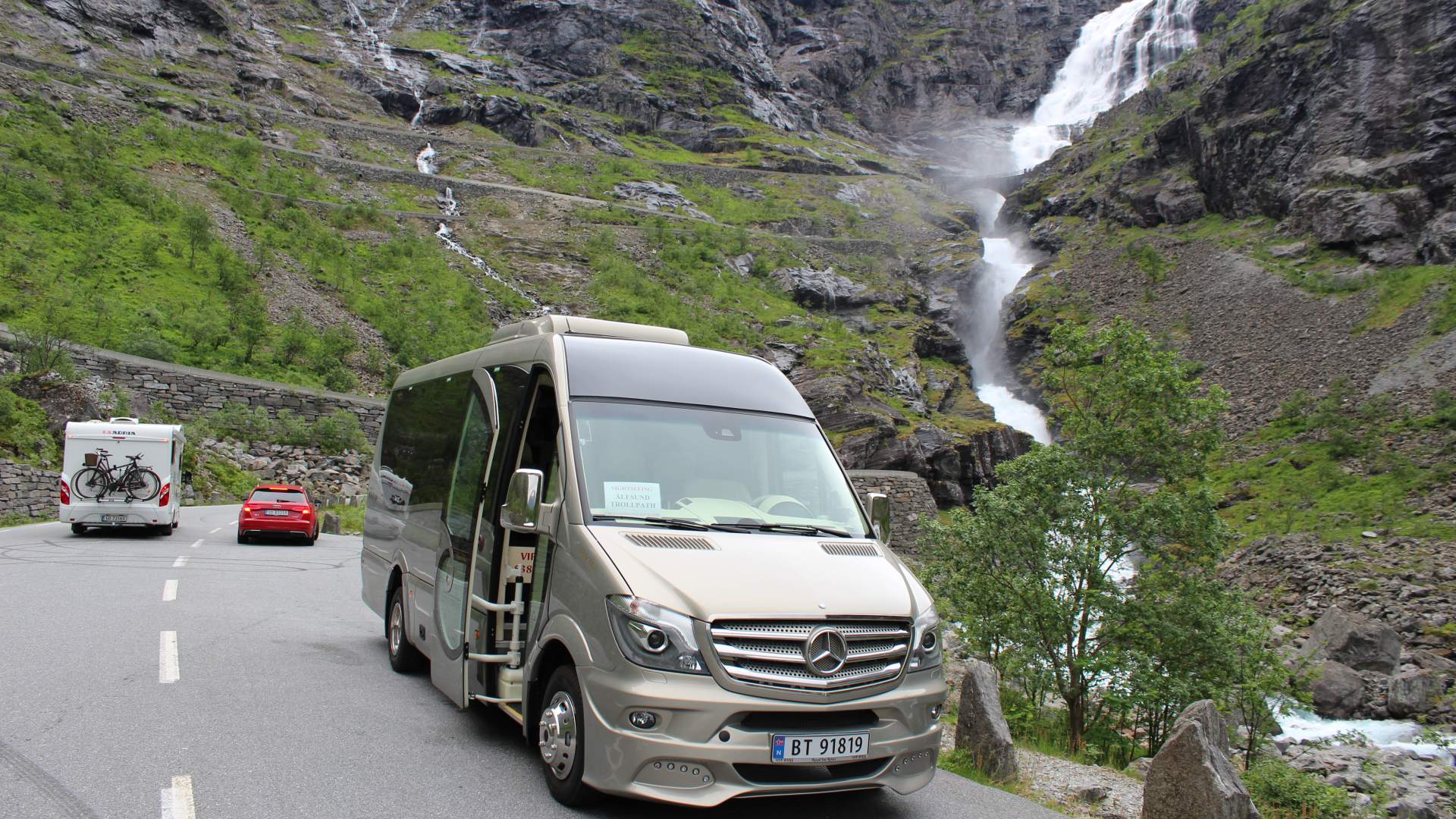 Experience the beautiful view over Ålesund from the mountain top, and thereafter experience the breath-taking views of Storfjorden, Gudbrandsdalsjuvet and Trollstigen.
With the sea on all sides, surrounded by mountains, nicely located is beautiful Ålesund. Further from Ålesund, along Storfjorden towards Trollstigen. An adventure-journey in reality. This experience is unique, even for Norwegians. High mountains and deep fjords. Welcome to the heart of beautiful Norwegian nature. Breath-taking views of the Gudbrandsdalsjuvet and Trollstigen. Majestic waterfalls, old farms, small rivers, wild mountains with snowcapped peak is simply unforgettable and untouched nature several places. Trollstigen, a masterpiece with adventurous experiences all the time. The road creeps along the mountainside, with its 11 turns over the dramatic world-class Stigefossen, is an experience in itself. Amazing Trollstigen part of the golden route in Norway. The road has been luring tourists since 1936. Incredible landscape from the top.

The Royal tour is 1st class with an exclusive 16 seated minibus with the best comfort and panoramic windows for the best views. Comfort and quality are our brand. From fjord to troll in majestic experiences. Ålesund is like taken from a fairy tale book. Ålesund town we see from the top of the mountain Aksla with panoramic views of the town, surrounded by sea and mountains is this first stop. The trip continues towards Storfjorden. We show a fantastic drone video from Ålesund, Gudbrandsdalsjuvet and Trollstigen on the bus. Snow clearing of the winter closed road also appears. The video is displayed with pleasant music, as we drive towards to the high Sunnmøre Alps, high mountains with snow-capped mountain peaks and deep fjords. 8 - 10 stops along the beautiful route. Gudbrandsdalsjuvet is an experience with waterfalls and rapids. Amazing and stunning. After 15 minutes, lunch is ready in the bus and we drive towards Trollstigen. We pass untouched and wild nature. We stop in 2 places before we reach Trollstigen where there is a 45-minute stop. We experience Trollstigen from above and stop down. And we stop to greet the trolls further down the valley before driving back to the cruise skip.

The trip in sequences: •    Stop 1: 5 minutes. View of Ålesund, from the mountain. Toilet stop. Driving time 15 minutes. •    Video of Ålesund and Trollstigen in the bus. Lasts 25 minutes. •    Stop 2: 3 minutes (Sjøholt). Guiding of the old hotel. (Sitting in the bus, not going out.) Driving time 45 minutes. •    Stop 3: 5 minutes. Kopparsteinen. Toilet if it is open. Driving time 15 minutes. •    Stop 4: 5 minutes. By the road with the fjord crossing to Geiranger. Driving time 30 minutes. •    Stop 5: 15 minutes. Gudbrandsdalsjuvet. Toilet stop. Driving time 30 minutes. •    Lunch on the bus •    Stop 6: 5 minutes. Øvstestølen old farm. Driving time 15 minutes •    Stop 7: 5 minutes. Top of the mountains. Driving time 15 minutes •    Stop 8: 45 minutes. Top of Trollstigen. Toilet stop. Driving time 10 minutes •    Stop 9: 5 minutes. Bottom of Trollstigen. Driving time 15 minutes •    Stop 10: 5 minutes. Greeting the big trolls. Driving time 15 minutes •    Stop 11: Ålesund cruise ship harbor. Driving time 90 minutes •    3-4 stops with toilet: Stop 1 (After 15 minutes), Possibly stop 3(After 1 hour), stop 5 (After 1 hour) and stop 8 (After 50 minutes). From stop 8 to cruise ship takes ~2 hours.
Last updated: 09/12/2023
Source: Ålesund & Sunnmøre
Royal Tour Trollstigen Round Trip
Páginas visitadas recientemente